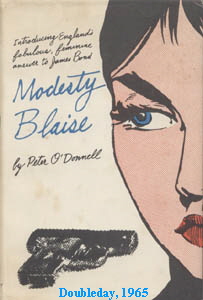 Modesty Blaise
From this printing: At twenty-six Modesty Blaise owned a London penthouse worth 70 thousand pounds. She had managed a gambling saloon in Tangier and The Network, a group whose activities included espionage, smuggling currency and gold, and thefts of art and jewelry. Never, however, drugs or vice.
Sir Gerald Tarrants position at the Foreign Office was vague, but one thing was clear: he needed Modesty Blaise for one certain assignment. And the price she wanted included the use of Willie Garvin, a lethal Man Friday.
Willie Garvin moved with flowing ease, parrying with knife against knife, the most skilled of all maneuvers in the art. He swept the bigger weapon casually out of line, and Modesty waited for the riposte to the exposed throat. But instead the small blade swerved and nicked an ear. The man sprang back, breath hissing through teeth bared in a rictus of fear. Willie took two shuffling steps back, and waited.
Modesty moved forward and spoke, her voice low and hard. 创What the hell are you fooling about for, Willie?创
创Thought you might want a talk with 磇m, Princess,创 he said reasonably, not turning his head. 创Nicole all right?创
创No.创 She stood at his shoulder now, looking at the big man. 创Nicole磗 dead. Pacco sent the two of them to kill her.创
创Ah.创 The syllable held no expression.
创I磛e put the other one down,创 she said. 创And I don磘 want to talk to this one.创
Willie nodded bleakly. His knife hand came up to breast-height, the knife pointing toward his opponent. The big man crouched, eyes narrowing; this time he waited for the attack, bracing himself for a last desperate effort in what was to come.
Willie Garvin did not move his feet. In one eye-baffling movement he spun the knife, caught it by the point, and threw.